Upon my official retirement in 2012, I relaxed a bit too much and sat watching television then gained weight. After forty seven years of a professional career and paying my taxes (and still paying), I needed a break from the daily grind. I guess most guys when they retire lose their previous ambitions and some just die. I tried to stay busy around the house but lost interest in a lot of things I used to enjoy such as writing music, golfing, camping, working, traveling. I was bored and my legs were starting to hurt. 
After about a year of couch potato living, my wife, Eileen came to me while I was munching on junk food and watching my favorite western channel. She said that if I don't get a job or something I was going to die on her. I asked, "What do you want me to do?" She said she found a job online that I would really like, "Would you like to be an usher for the Houston Texans at NRG Stadium?" I said, "Huh?" She repeated the phrase again while I bit down on a wonderful delicious burger I had made. I said, "Sure, yeah!" She helped to update my resume then apply for employment. It went pretty smoothly and the next day I went for an interview. I was accepted and began working an assignment for the Houston Rodeo at NRG! (Also, I went to the gym twice a day to strengthen my legs since I would be standing a lot.) 
I began my new working life as a retiree and really have a fun time! At NRG Stadium, I helped people on the escalators, at the elevators, guarded doors, and eventually became an usher for the upper level seating. An NRG Stadium usher checks tickets as people come through your assigned area. If they do not have the right seat number, I would direct them to the place they were assigned to. Easy shmeezy! As a beginner who did not know the system, I was taken advantage of by the supervisors and given the lower end positions. I finally spoke to the right supervisor and asked about the cooler usher jobs by the VIP seats. 
I need to tell the guys who are reading this that the Houston Livestock Show and Rodeo has the most beautiful women of all the NRG events through the year. What can I say...I'm a guy!!! I told my wife this and we both agree that I can look but cannot touch! Ha! I saw many country shows such as Garth Brooks, Blake Shelton, Brad Paisley, Luke Bryan, Chris Singleton, Brooks and Dunn, Cardi B, Camila Cabello, Cody Johnson, and a slew of others. I saw some famous rodeo stars riding bulls, wrangling broncos, wrestling steers, and roping calves from a ground level vantage point. Each year, the rodeo lasts almost three weeks and ushers have the flexibility to pick which nights to work. We even get a small bonus if we work all the scheduled days. The Houston Rodeo is getting started again for 2020 and I plan to see more amazing country stars and exciting events.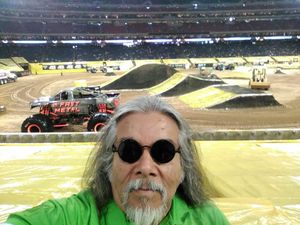 Other NRG Stadium events are fun too! I have worked the Monster truck shows when the doors are open and the weather is cold. There is always a stinky smell of petrol in the air and it is very noisy. Grave Digger rules but the women drivers hold their own too. While sitting in my chair looking up at my section, I love to see the excited and wide-eyed expressions on the kids' faces when the trucks go by behind me as they flip and jump ramps. The Monster truck show has certainly come along way from the days of Big Foot in the 1980s! 
I've worked several final four college basketball games and have seen Duke, North Carolina, Virginia and others. The fans and their college bands are the loudest of all events since the screaming girls will make you cover your ears! The games usually sell out so moving the fans after the game is not so much fun. 
The high school football playoffs are fun to watch and those energetic kids can really rack up the points. The losing team and the cheerleaders sure do cry a lot though...it's only a game kids. 
The World Cup of soccer is cool too. I've seen several games with huge stars from Uruguay, Mexico, Brazil, and Portugal where I can practice my Spanish and where the chicas are so cute! I do not like the crazy way the big stars will fake a small hit by flailing away in immense pain to draw a foul. When watching replays on the huge screens above, I can see that they win the Academy Award for acting hurt. The Latino world and Europe sure love their international futbol sport with a passion. 
Both the Motocross motorcycle and bicycle shows are really fun to watch. Each event is always short and excitingly quick. I really do not see why people pay so much for a short event but I think it's all for the kids. Motocross events were recently added to the Olympics since the crazy but controlled flips these people do are incredible. 
Even though they don't take place at NRG that often, my favorite events are the music concerts. I've seen Guns N' Roses, Beyonce with Cardi B and Camila Cabello, Taylor Swift, but my all-time favorite was The Rolling Stones - No Filter tour. I was so close to them working security by the middle runway stage leading out to the center. I was only 20 feet away from Mick, and Keith, Ronnie, and Charlie Watts. I was star struck to experience this dream come true! 
As an usher for the Houston Texans football team, I have a primo position right behind the opposing team's bench for each home game. I get to watch some incredible football only a few feet from players such as Antonio Brown, Tom Brady, Dak Prescott, Aaron Rodgers, Andrew Luck, Ben Roethlisberger, and most of the NFL teams the Texans play. Hours before the game starts, I enjoy watching the players walk by after getting off the bus as they enter the stadium. You know who the super stars are since they walk in sporting outlandish clothes and bling while all the other players wear fancy suits and ties. Yes, it is a site to behold for a die-hard sports fan. In my seating section, I have also seen Dan Marino, Lyle Lovett, Lester Holt, Jerry Jones, Troy Aikman, Michael Irving, Tony Dorsett, Emmitt Smith, Michael Vick, and many more celebrities. I treat them just like any other ticket holder when they ask for assistance. Houston's own JJ Watt is always such a gentleman throwing a football to and catching from fans (especially children) in the stands as he walks around the field perimeter at every game. Our Houston Texans Cheerleaders are really cute and I have even received a few flirtatious winks as they danced near me. As I tell the fans who ask me to take a picture of them in front of the football field, "Welcome to the NFL experience!" It truly is. We win some, we lose some, but watching the Texans play so close is always a spine tingling experience. 
Another event I do security for is the EDM (electronic dance music) shows at selected venues. It's my favorite event since I see way too much fun and craziness. Most of the participants are young millennials so the smell of weed and the total freedom of expressing themselves is insane! 98 percent of the girls wear G-strings with tiny bras or nothing at all but body paint and tattoos! I've seen a lot of skin if you know what I mean. I love the huge sound system beats and laser shows that the crowd dances to, as well as, the selected music from worldwide famous DJs. 
Sometimes, I usher at the Smart Financial Center in Sugar Land, Texas. I've seen Willie Nelson, Indian Bollywood shows, BTS and Korean K-Pop, Roy Orbison hologram concert (this blew my mind!), Christina Aguilera, Mark Knopfler, Michael Flatley's Lord of the Dance, and many more great musicians. My favorite show was with Bob Dylan where I was assigned to usher in front of the stage. While waiting for the doors to open before the show, a man approached me and introduced himself as Bob Dylan's personal stage manager. He told me on behalf of Bob and himself that I do not work for the venue that night but instead I will be on Bob Dylan's personal security team. Wow! He told me to keep a watchful eye on people with cameras or cellphones taking videos. He said Bob will stop his show if he sees anyone pointing a camera his way. 
When the show began, I had a seat right in Bob's line of sight to the audience in front of me. He played the piano and sang but never picked up the guitar during the show. He must have dug my head moving to the cadence of his songs since very time I would turn around to peek at Bob, he would look at me and sing, sometimes grinning at my bobbing head...every time! It was as if Bob was singing to me. I often see celebrities in the audience but never reveal them. Once I had to escort one out of the building but I'll never tell who. 
If I can do this at my age you too can usher in your retirement and enjoy all the shows for free! The salary is not great but will help make ends meet. I often advise unemployed handicapped people (even those in wheelchairs) that NRG can hire them to watch elevators and doors. It's a fun job and is a great place to meet and greet people from all over the world. 
And now on to my next assignment...see you at the next rodeo!