You never know who you'll meet at Luby's! 
My wife, Eileen and I volunteered for the 2019 Thanksgiving Day parade in downtown Houston handling a giant Dr. Seuss Lorax balloon. Since we had so much fun handling a NASA astronaut balloon in 2018, we decided to do it again. Our job was to be part of a group of around 15 people who each held a rope to wrangle the balloon up, down, sideways, or wherever needed to avoid trees along the downtown route. It was a challenge fighting the wind and a blast waving, smiling, and cheering up the children (young and old) who came to watch the parade before stuffing themselves with grand turkey dinners.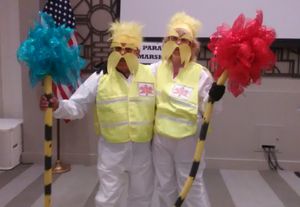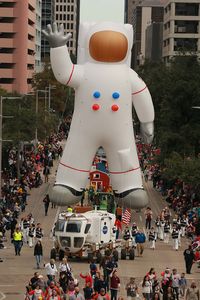 When the festivities were over and we were heading toward home with hungry stomachs after a physical balloon workout, Eileen said we should go to the nearby Galleria area Luby's Cafeteria to eat a Thanksgiving meal. We have no children and had nowhere to go, so we both agreed...Luby's!!! 
We arrived to the pleasant aroma of roasted turkey wafting through the air then went inside to join the long line of people waiting to get their meal (later, as we left, the line was way out the door and there were makeshift dining tables outside the restaurant). Eileen took photos of a chalkboard sign stating facts about how many turkeys were consumed at Luby's for the 2018 holidays (52,000), pecan pies (32,000), mac and cheese (12 truckloads or 482,820 pounds!!), etc. A distinguished older couple behind us asked what we were taking photos of so we started an animated conversation about things like jalapeno cranberry sauce and how tired my legs were after having dragged a giant Lorax balloon along a 2.3 mile path. The gentleman and I spoke about mutual health issues and his knee surgeries and working out at the gym.. 
By the time I got my turkey dinner special and Eileen got her Luann platter with fish, the gentleman asked if we would like to sit together for dinner to continue our fine conversation. We approached the cashier and I was reluctant about spending our time with strangers. Eileen encouraged me to do so since it was an interesting conversation and after all, it was Thanksgiving! 
We followed the couple to a booth and made formal first name introductions then started a conversation I will never forget.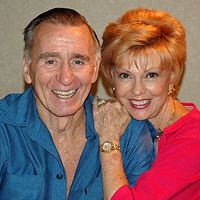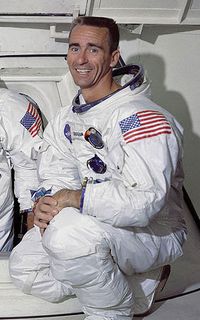 Walt told me he was one of the original astronauts in the Apollo program. I was so impressed to meet an astronaut not really aware that I was speaking to the one and only Walter Cunningham!!! (I found out his last name later on the ride home.) We were originally introduced to them as Dot and Ronnie. For an hour and a half we spoke to them about all sorts of things like art, travel, kids, fast cars, the military, NASA, life experiences. Walt told me three times during our conversation that he never thought he would get up that morning to have this most interesting conversation we had. Asking strangers to dine with them has never been done before either. They seemed to enjoy our company. 
We began our conversation about Walt being a Marine jet fighter pilot in Korea then I told him I was an Army brat and had flown in a few military planes and was briefly at the controls of a medical Hercules C-130 plane over Panama. I told him that on takeoff from Quito, Ecuador, the co-pilot buckled me into the side seat near the rear and told me not to get up or take my seat belt straps off. He said after takeoff he would open the rear cargo doors so I could take a glimpse of the Avenue of Volcanoes all the way to Peru. Walt was not impressed, telling me it was wrong of them to open the doors for me. But it did happen when I was 14! I told both Walt and Dot that only me, the pilots, and a couple of nurses were on the plane to take my brother (in a pressurized compartment) who had a serious motorcycle crash to a hospital at Fort Clayton, Panama. My parents could not go since Mom had to care for five other children and Dad was in Bolivia sniffing out the trail of the notorious Che Guevara. 
I think Walt was impressed by my once in a lifetime stories. I also told him that my father would buy me chemistry sets, lab and rock sets, microscopes and telescopes, then even helped my father with Heath kits making transistor radios, walkie-talkies, and stereo components. In those days of the early sixties this is what great fathers of vision and mechanics did for their sons. Perhaps Walt did the same for his kids. 
I told Walt that in high school I took drafting classes on old board tables like he did and learned calculations using ivory slide rules (since pocket calculators had not been invented yet). I told him that the night before, we saw a documentary about the astronauts (including himself) actually using drafting tables to design the Command Modules. I was soooo impressed that these guys were talented to do that because I too can relate to the precision and expertise needed to be a good board drafter. He was fascinated by my knowledge of aerospace engineer and space architect Wernher Von Braun. I told Walt that it was the Germans who first went to space with a V2 rocket nearly 13 years before the Russians did so with Sputnik. That bit of knowledge made his mind search. 
Another topic that seemed to impress Walt was my knowledge that in the late fifties NASA put a radio tracking station on top of Ecuador's Mount Cotopaxi. It was built along with 22 other worldwide sites to track spacecraft as they flew overhead. On a 1966 camping trip with my father, brother, and friend, we climbed halfway up Cotopaxi and could see the station way above us on top of the volcano (as well as flying saucers...but that's another story). I grew up following NASA from that day forward and even got to see Neil Armstrong and Dick Gordon pass by near my dad and me at a ticker tape parade after Neil made his famous mission in space earlier in the year. 
Walt seemed to be very interested in my knowledge about his NASA days but I didn't realize until later that his mission right after Apollo 1 and the death of his astronaut friends (Gus Grissom, Edward White, and Roger Chaffee) that his mission would be the most important for NASA leading up to Neil walking on the moon. What Walt did on his turn in space on Apollo 7 was so important scientifically...well he had the right stuff!!! 
Dot told us that Buzz Aldrin was such a showoff and showed us many photos on her cell phone of Walt, Neil Armstrong, Buzz Aldrin and the rest of the astronauts in the early NASA days as well as their 50th reunion. I didn't have my glasses but I kept on nodding to her about those wonderful historic pictures. She told us why Buzz wore such outlandish clothes and hands full of gaudy jewelry. He told her that those clothes and bling would be worth a lot of money on his passing. We four laughed and laughed. 
I was born in 1953, the year of the first Corvette and Eileen was born in 1963, the year of one of the most popular Corvettes so I asked Walt what was his favorite sports car that he had owned. Dot told me, "Oh don't get him started on that!!" He said his 2015 dark grey Corvette he has now is his favorite. We both agreed the Corvette is a jet fighter's dream car and he has owned many Porsches and Ferraris through the years but the Corvette is both of our favorites. 
I could see in his eyes and his face that he was in deep thought about our discussion. He told me that this enlivening conversation was a reason why he met us. I asked Dot what was the most memorable Thanksgiving she ever had. She told both Eileen and I that today, right now was the most memorable. We melted like butter and agreed. Wow! 
Besides my dad, I now have a new hero and this was probably the most interesting conversation I have ever had with someone other than my wife. Thank you Walter Cunningham – astronaut, Korean jet fighter pilot, physicist, entrepreneur, venture capitalist, author of The All-American Boys, and international celebrity. 
I recently bought his book, The All-American Boys – An Insiders look at the U.S. Space Program. I can't wait for him to autograph it for me someday soon. 
Keep your eyes, ears, and heart open since you never know who you will meet at Luby's.