Camping in Texas in December can be a wonderful experience... 
Our Texas Ladybug teardrop camper was packed up and ready to go. My wife, Eileen had a couple of days off from work and told me that we should go camping somewhere. We thought about going to Fredericksburg and Johnson City to see some beautiful Christmas lights but did that magical trip several Christmases ago. It is a must see!!! We soon settled on camping in Dallas since we have never been there during the holidays. 
We left Houston around 3:00 pm on December 17th and headed north on I-45 with cold weather and blue skies ahead of us. We like to travel off-season and on a small cash budget so we built a lightweight teardrop camper complete with sleeping quarters and small cooking area to pull behind our little Pontiac Vibe. Maya, our cocker spaniel, rode with us even though she ducks her head under the back seat when she hears anything strange or if someone is looking at her. Maya is a very smart dog and makes our trips entertaining, but she hates to travel.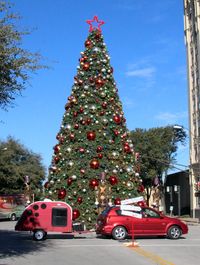 Halfway to Dallas, we pulled over and ate at Taco Bell in Corsicana for cheap tacos. We gassed up with twenty dollars and filled up our car. It was kind of expensive at $2.27 a gallon when we should have filled up near our home at $2.05 a gallon. Oh well, that's the price of living on the cheap side of life. 
We left Taco Bell and visited the Russell Stover Candy Factory store to load up on some gifts. It was amazing to see all the chocolate varieties they have. I asked the hostess if she tires of eating chocolate all the time but she never eats it and doesn't have a sweet tooth. What?!! I also asked if the graphics people love their jobs designing all the fun wrappers and packaging. She said that yes indeed they love their jobs and the factory keeps them very busy. (I asked because my wife mentioned how awesome the artwork is and that she would love to be on their design team. She is a graphic designer.) 
I walked around the store a bit more then told Eileen that I was going outside to entertain Maya with our favorite game of retrieve the golf ball in an adjacent field. I use a seven iron shot where she can see the ball then run run run after it and bring it back to me. She often gets side tracked a bit with her powerful nose and will drop the ball to sniff other things. I then have to call out to her to get the ball and drop it at my foot. She eventually will do just that. Maya is simply adorable with her dark bubble eyes and long floppy ears. 
On the road again, we arrived in Dallas at dusk so Eileen used Google Maps to find the best neighborhood Christmas lights. We arrived at a fancy old neighborhood with million dollar mansions and grand light displays. We drove further to another street where an amazing light show was in progress orchestrated to music on a radio station. So cool! There were lights with several blinking patterns draped around two huge oak trees across the street from each other along with lighted Christmas trees in four yards. I have never seen anything more spectacular except during a rock concert with computerized lighting. 
We drove to another street that was listed on the 10 best Christmas light displays in Dallas. The police even put up a street barricade for all the traffic that come to see the house. When it was our turn, I parked the Texas Ladybug in front. There were several hundred vintage plastic blow mold Santas, snowmen, angels, Snoopy, Kip's Big Boy, The Three Stooges, etc. lit up around the yard along with the original famous Big Tex head from the Texas State Fair on top of the house. What a fun and unusual sight! The Santas were placed next to each other to form a fence around the whole front yard with a sign that read "Lights By Clark W. Griswold the III." You know the crazy wiring of all the plugs to one light socket? Yep, the wiring looked very similar to the Christmas Vacation movie.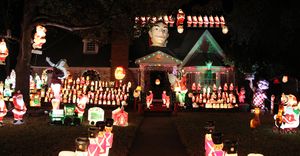 We finally made it to a Wal-Mart to camp for the night. FYI: There is an unspoken rule that most Wal-Marts will let you park overnight for one night, especially the larger 24 hour stores. We usually end up shopping for something there anyway. 
The next morning, we ate at Dallas' Original Pancake House (open since 1953). The food was tasty and my plate of Huevos Rancheros was incredible. Our waiter told us of the restaurant's history and that he had been going there since he was a kid. Eileen and I were searching for something to do on our last day in Dallas so we headed to King Architectural Metals to buy steel pieces for welding. Eileen is wanting to start welding next year to create yard art for fun and to sell. While she was inside ordering scrolls and metal stars, Maya and I enjoyed playing golf ball fetch at a small picnic area they provided. Maya had a great time as usual. 
Since we were in the area, we wanted to pay homage to one of our favorite Texas guitarists, Stevie Ray Vaughan. He is buried at the Vaughan Estate site at Laurel Land Memorial Cemetery. His grave rests in front of his parents' gravesites under a big oak tree. It was a very moving experience as we are die hard SRV fans so we wanted to leave a memento of our visit. We tied Maya's red bandana around the Vaughan Estate marker pole where other fans have done so. Eileen and I took photos and said our blessings to the man and his family. We never thought about coming here before, but are glad we went. Wow.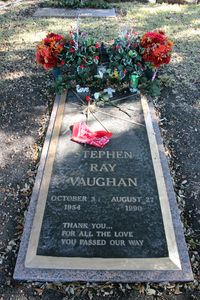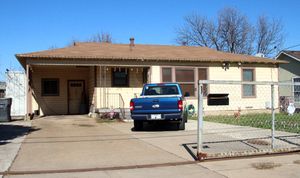 Upon leaving the site, Eileen Googled again and found an address to the original boyhood home of Stevie Ray and Jimmie Vaughan nearby in Oak Cliff. As we drove toward the destination and turned the corner onto Glenfield Avenue, SRV's Soul to Soul came on the radio!! Wow! It was as if God and Stevie were playing the song just for us. I cranked it up while parked in front of their house and we were mesmerized by what we were seeing and feeling. I told my wife and pointed to what must have been Stevie's bedroom window. It was a small 1,100 square foot house with a carport and a covered patio where the music first began. I am sure its present owner must have known that was the boyhood home of one of the greatest guitarist who ever lived. It was a moment we will forever cherish.
After a lunch at Whataburger, we visited the famous Fair Park where the Cotton Bowl football games and the Texas State Fair takes place. It was cold and there were no events happening but we drove among the beautiful art deco buildings and retro sculptures. We even saw the Texas giant ferris wheel from a close distance. Of course, we played golf ball with Maya in a lonely Fair Park field to appease her boredom. Afterward, we spent a couple of hours window shopping at the old downtown Farmer's Market that has been genteel-ized into an uptown shopping center (waiting for night time to see downtown Dallas' Christmas lights before heading back to Houston). Dallas does have a charm and unique quality all its own among Texas cities with a beautiful skyline and lights galore!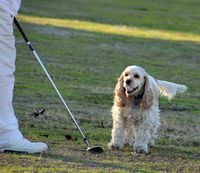 Driving home toward our Houston home, we spent another overnighter at a rest area south of Corsicana. When we awoke it was 24 degrees outside and the grassy fields were frosted over...perfect for Maya to retrieve one more golf ball. We can't wait for our next camping trip to begin. Merry Christmas and Happy New Year from Texas, Y'all!