Since the 50th anniversary of the first lunar landing is upon us this year, these are my own experiences of where I was at during that incredible time.
During the early summer of 1964, the Balli family moved from the states to Quito, Ecuador. My father Calvin was enlisted in the Army and was assigned to the US Embassy for the next 3 years. Before our arrival, he briefed my brothers and me on the purpose of our stay, which was to obtain information on Marxist revolutionary Che Guevara. The embassy found us a two story house on the slopes of Pichincha, a nearly 16,000 foot volcano overlooking the city of Quito. From our house we could see Mount Cotopaxi, the highest volcano in the world due to the equatorial bulge of the earth. The scenes of the Andean mountainscape was breathtaking and promised many exploratory adventures for young boys!
My father would let us know when a rocket would be launched from Cape Canaveral so we could anticipate watching the night sky to see the spacecraft (in the form of a tiny bright dot) whiz by the star-filled sky. It was so cool to witness this history since humankind had never seen a feat like space travel before! We would never know what the flight plan would be during these missions but were confident that the tracking station on top of Mount Cotopaxi would communicate with the spaceman in flight.
In 1957, before I even knew about space travel and before satellite technologies, NASA and the United States built a tracking station on top of Mount Cotopaxi. It was to be used to monitor the Mercury, Gemini, and Apollo spaceships that flew in orbit high overhead. There were also 18 other mini tracking stations used around the world to communicate with Houston's mission control. Many future astronauts would train on the slopes of Cotopaxi learning the skills and strategies for an eventual flight to the moon. Military pilot, Neil Armstrong was one of them.
The science of men in space was in its infancy and the United States was desperately trying to keep up with the Soviet Union who was leading the space race with Sputnik and had already placed the first man, Yuri Gagarin, in orbit. On October 3rd 1962, Mercury capsule Stigma 7 was launched from Canaveral, Florida. Pilot spaceman, Wally Schirra named his spacecraft using the mathematical symbol for summation as appropriate for an engineering evaluation and the number 7 to refer to the seven original Mercury astronauts. Passing over Quito, towards the end of his fifth orbit of six, Schirra was asked by the engineers at the tracking station if he had any message to pass on in Spanish to the people below who were watching. He made some comments on how beautiful Ecuador was from space, ending with a friendly "Buenos Dias, y'all!" Wally noted later that he was mad as hell at this point since he was preparing his dangerous re-entry and didn't want to make any public statements.
Later, In 1966, Neil Armstrong and other astronauts came to visit Quito and I got to see him pass by in a parade motorcade while my father filmed with his Super 8 movie camera. The streets were lined so heavily with people that the motorcade at times had to slow to a crawl while Neil and famed pilot Dick Gordon shook people's hands. The third man sitting in the car of the film and smiling at me and my dad was the US Ambassador, Wymberley D. Coerr. Later that afternoon I got to see Neil speak at the US Embassy. I was so impressed with this guy not realizing at the time he would be the first man to walk on the moon!!! Ecuador treated him like royalty!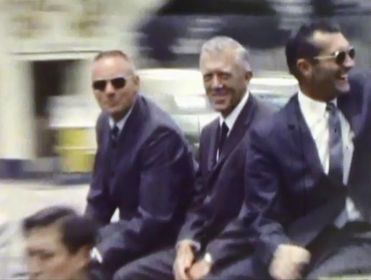 The reason for the motorcade was to celebrate the two astronauts and the service they did for NASA and Ecuador. Neil had just made his first spaceflight as command pilot of Gemini 8 in March 1966, becoming NASA's first civilian astronaut to fly in space. During this mission with pilot David Scott, Neil performed the first docking of two spacecraft. The flight was aborted after Armstrong used some of his re-entry control fuel to stabilize a dangerous roll caused by a stuck thruster. During training for Armstrong's second and last spaceflight as commander of Apollo11, he had to eject from the Lunar Landing Research Vehicle moments before it crashed. The film of this event is historical and you can see Neil parachuting down near the burning vehicle. He proved he had the right stuff to become the first man to walk on the moon. https://www.youtube.com/watch?v=L4bfwzlt6ms
Dick Gordon served as backup pilot for the Gemini 8 flight. In September 1966, he made his first space flight as pilot of Gemini 11. At the time, the flight set an altitude record of 851 miles, which stands as the highest earth orbit ever! Gordon was one of only 24 people to have flown to the moon, as the Command Module pilot of Apollo12. The world over, people loved these spacemen and their crazy flying machines.
It's funny that years later my love for NASA and Neil Armstrong in particular would culminate to a final crescendo...and on a very special moment of my life. Fast forward to July 19, 1969. I was celebrating my 16th birthday while Neil Armstrong, Buzz Aldrin, and Michael Collins were in the moon's orbit expecting to touchdown soon. I was sure hoping that the Eagle would land on my birthday. It was a hot summer night in Killeen, Texas where I and a few friends had a sleepover during this most famous event in history. We were glued to the TV along with people all over the globe!
On July 20th, the spaceships separated and pilot Neil Armstrong, with seconds to spare on fuel, landed the Lunar Module on the moon. Even though it wasn't my birthday, this landing was so monumental and historical...one small step for man, one giant leap for mankind. I mean who could write something as profound as that? Neil did!!! He will forever be a most celebrated hero in my life as are Lewis and Clark and Thomas Jefferson. But my father Calvin who gave me the opportunity to experience all these momentous events of my life is my Numero Uno Hero. Thanks dad in heaven.
I can't believe this event is now 50 years old in 2019. It is also fifty years that I have called Houston home and mission control is nearby. Come and visit to see the place for yourself sometime. Look up at the moon and know that American spacemen where there too. Someday soon men and women will be there again.