(NOTE: In honor of the Ken Burns Vietnam documentary on PBS,
I am writing this story from my own experiences during that time frame.)
I was a teenage army brat living in Fort Hood,Texas, which was at the time the largest Army base in the free world. My family lived there starting in 1967.
I was a cool looking dude transplanted from Galveston, Texas who was going through the usual growing up pains so I found ways to grow closer to the world through music, fashion clothing, and girls. I also became involved in the wonderful pop art movement that was going on. Killeen (the city adjacent to Fort Hood) was a pretty cool place for a teenaged Army brat and I have many fond memories.
In Killeen there were a lot of things going on. Hollywood movies and movie stars were a gas, the Beatles and Stones were at their peak, the first Killeen McDonalds and Der Wienerschnitzel opened for business, and the GI anti-war movement heated up. For us freaks (longhairs) we used many cool sayings like far out man or keep the faith and we certainly resented plastic people. We spoke about peace and everything groovy, had a positive outlook, and we obeyed the law. Killeen was a happening place and the Oleo Strut provided a venue with a San Francisco-like feel of the late sixties. I was a teen and in the best years of my life.
My good friend, Obe Arrevalo ran the projectors at his dad's drive-in theater on the outskirts of town. His dad would lend Obe his Chevy Nova and we would cruise the streets and see all the new movies for free. I would also help thwart the trunk stowaways who tried to sneak into the theater. Another friend was Ricky Luper, who had a brand new Shelby Cobra but mostly we just walked everywhere. We either roamed the street of Rancier or got a ride from a friend. Ricky and I would listen to The Doors, Hendrix, and played our own music in his garage.
As a teenager I lived the life of an Army brat so I learned about the privileges and military perks early. We bought what we wanted (such as clothing, watches, etc. at deeply discounted prices) from the Annex or PX. My friends and I would also go on base, borrow guitars, instruments, amps, PA equipment then reserve time in the Army sound studios. We spent a lot of time playing music so I really got better on my guitar. They also had an NCO club on base where we attended teen parties, ate burgers, and played Bingo. What fun we had!
Later, my father bought an off-base two-story house on Lake Belton South near the outskirts of town. He then left my mother and six children to fight a senseless war in Vietnam. My siblings and I went a bit wild during the next 14 months while my dad was away. Over all, we had a blast! (I still cannot imagine what he went through since he did not speak of his experiences. He won a bronze star for saving himself and two other guys from a thrown hand grenade in camp then became a Master Sargent and served with distinction. Earlier in his military career, he fought heroically facing hundreds of Chinese protecting the border of South Korea. He honored the corp.)
In 1968, activism against the war was all around us even in that predominately military town. I couldn't help but get interested and started a band surrounded by friends who had similar anti-war values. Ricky Luper, Obe Arrevalo, Chris Price, Henry Irrizari, and Alex Gonzales, and I would perform rock songs at local Killeen parks, Lake Stillhouse Hollow, and at various friends' homes. Chris would always get huge kudos for playing his Farfisa organ on Light My Fire just like The Doors' record.
The hippie movement was in full force so I learned how to sew bell bottom pants from my grandmother who would treadle her feet up and down to the rhythm of the sewing needle. I was a Modnik, had a flare for anything British, and was styled up for the teen club scene.
At 15 years old, I met my first girlfriend in a Killeen High School art class. Initially, our similar artistic ambitions brought us together but we had a lot in common. The Who was our favorite band, our fathers had just left for Vietnam, I played guitar and first started writing my songs, she painted beautiful art, and took wonderful photos...we were both ripe for experience in the culture of the day. Our mothers did their best to keep us in line while our dads were fighting in the jungles far away.
Our high school had a pretty good football team so Janie and I would go to all the games and hold hands. Occasionally, I would get a nice kiss. Yong Ye was the football player to watch since he had a blackbelt and was popular. At times, our art class would get to develop film in the darkroom so Janie and I could sneak in some together time. My lady friend was really sweet on the eyes and her eagerness for working with film was enticing.
1969 was the year I first experienced pot. Janie and I were staying the summer together in downtown Killeen at our friends' house (Tom and Charlotte) when she came to me with a lid one day. I was a bit shocked to see her pull a bag out of her purse and I resisted at first but gave in to the pernicious weed. My first high was in our hosts living room with two other couples. We had a blast spinning LPs, laughing, and talking. We spent a lot of that beautiful summer in that house wearing flowers in our hair, skinny dipping at Lake Stillhouse Hollow, seeking the infamous Goatman, picking up horny toads and tarantulas, making music, watching man land on the moon, and smooching. It was my Summer of Love!
The GI movement against the Vietnam war was in full mode. There was a lot of anti-war activity going on and people were voicing their opinions. One of America's most important coffeehouses was the Oleo Strut since it was the place to go for political activists. It came about as a printing press for the Vietnam GI, an underground newspaper that was written by GIs about daily reports coming out of Saigon. American soldiers from around the world would gather for coffee and discuss how they could help end the war. (Read about the Oleo Strut.)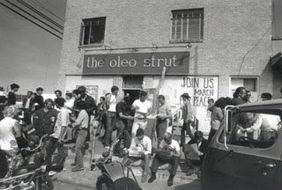 I would often pick up a copy of the Vietnam GI and loved to read the Fabulous Furry Freak Brothers and observed pictures and stories of the true news media from the front line. (We did not trust the mainstream news.) I do not remember when I first went to the Oleo Strut but I know Janie and I would go there for the art and music scene. The printing press was always churning out papers and the coffeehouse encouraged artistic expression so we would use our talent by painting anti-war posters and banners. The message was clear...End the War! I was inspired by Peter Max so I drew and painted like him in colored pens.
I listened to many eye-opening conversations about the soldiers' personal war involvements. The Oleo Strut was an underground community and the government knew of it well. I saw many citizens and GIs go in to protest and finally made up my mind that I wanted my father back! I loved my dad and didn't want him to come home in a body bag. I too protested and became aware of what much of the real military thought about Vietnam.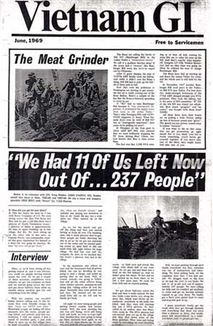 One day, I caught the buzz that Jane Fonda was coming to Hood...and well fellas, she was Jane...the sexy Barbarella of movie fame! So yes I wanted to see her in person. My friends and I arrived early as the crowd surrounded the Oleo Strut podium. We listened to the anti-war speeches then followed Jane with hundreds of others to walk the loop around downtown. We gave out newsletters and chanted about our cause. It was great to hear the cheers of this peaceful rally. There were no arrests even though the smell of herb filled the air.
I want to honor those brave young men who went to Vietnam and those I spoke to at the Oleo Strut. I know some are gone and others are still living to tell their stories (or choosing not to tell them). We fought for a righteous cause and helped spread the message. I was there!!